Jurassic Park 4
Release Date: 2005
According to Hollywood Reporter, Jeff Goldblum recently hinted about his involvement in the fourth film and confirmed he has "a very good chance to be returning in JP4" alongside Sam Neill and possibly Vince Vaughn. At present the film is at "drawing board stage and Steven and Mr. Moehan are busy writing the script prepping it to make sure it is perfect", whilst what he's read so far "takes a more sci-fi approach with some science thrown in to make it more enjoyable". There's also hints at what creatures we can expect "Steven has told me that my old nemesis, the T-rex will be back, possibly along with the Dilophosaur, that venom spitting one and get this, maybe even a water dino, a Mososaur, or something like that".

According to Cinemania magazine, Jeff says, "Steven gave me strict instructions to stay available, because it's not entirely impossible that the services of my character will be required. I said what any sane actor would say to Steven: Yes, Mr. Spielberg. The second you need me to be measured for shoe size, don't hesitate to call, I'll be there".

Sam Neil (Dr. Grant) says:
"Yeah, Steven Spielberg and his people are quite busy prepping another one. There is a chance you'll see me in it. I'm as surprised as anyone, because I didn't think there was any way they could get Alan Grant involved again. But they came up with a clever idea. Steven just blew me away with the story....something frightnening is happening concerning those dinosaurs that doesn't necessarily bode well for us humans. Scientists never seem to learn...You know that feeling when you first saw the original film, and you were so in awe, and felt so swept away and mesmerised by the sheer majesty of it all? I believe this premise has the potential to elicit that same kind of response. Out of all the concepts that've been created for these movies, this is possibly my favorite".
Dallas and Rusty
Release Date: 2003
Scott Caan is directing this film about two city kids who constantly get into trouble. One tries to go straight while the other doesn't and things get complicated. I'm not sure about the character that Jeff will be playing but Shaw Hatosy, Marley Shelton, Selma Blair, Isla Fisher and Val Lauren are also in the film.
The Yeltsin Project (Spinning Boris)
Release Date: Unknown, Cable Release- Summer 2003

I've been hearing a lot from the set of this one. It's being shot in Toronto, Canada. Production is supposed to rap up this month. Originally it was supposed to wrap up June 2, but they've been delayed. The Yeltsin Project is the official title although other working titles have been mentioned by people on the set. Someone who has some inside info says:

"It is directed by Roger Spottiswood (probably best known to the world for Tomorrow Never Dies and Sixth Day). The production company is called "Black Flower" (not much of an importance but still a detail). Jeff plays some kind of a politician from the United States who is in the middle of some kind of a government fiasco that is going on in Russia."

Some of my other sources say that this movie is being shot for Showtime (the cable channel) and co-stars Anthony LaPaglia and Liev Schreiber. Supposedly, it involves Boris Yeltsin's 1996 election comeback. Jeff is a political consultant from America that is hired by the Russians to help with the re-election. Anthony LaPaglia and Liev Schreiber are on his "team".

Hollywood Reporter confirms Showtime's involvement and Variety has also reported that such a film is in production. Please note that Showtime often contracts films to other production companies and "Black Flower" is involved. They are a Toronto based production company. Thanks to Scott for the photos! He has some more good ones on his site, so go see some more photos.
Chain of Fools
Formerly: Shiny New Enemies
Release Date: unknown (possibly cable release) - Visit the Official Site




Jeff is in the upcoming movie, "Shiny New Enemies". Salma Hayek will play the strong, sexy type in the comedy ''Shiny New Enemies,'' starring as a nude-model-turned- detective.

The $20 million picture follows the life of a barber (Steve Zahn) who starts his day intending to commit suicide and then watches as things get worse. Hayek plays Sgt. Meredith Kolko, a centerfold turned top-notch detective who is assigned to the heist of the Shiny New Enemies, a batch of precious ancient coins that end up in the barber's possession.

Jeff tackles the role of Avnet, an unsavory sort hired to steal the coins. Rookie actor Orlando Jones plays a drag queen, Miss Coco.

Production began June 7 in Vancouver, BC. Pontus Lowenheim and Patrick Von Krusenstjerna of the Swedish film collective Traktor will make their U.S. feature directing debut. Warner Bros. has pushed the film release back several times and is rumored to be considering cable release of this film (meaning the film will go straight to cable television rather than being show in theaters).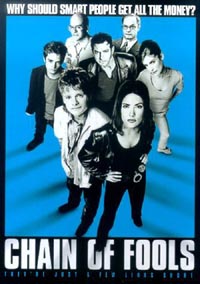 Poster reads: "Why Should Smart People Get All the Money." "They're Just a Few Links Short."
Click on the poster for a bigger image.
Rumors
Every Stewardess Goes to Heaven
A UK site reports that Jeff Goldblum will co-star with Alicia Silverstone in a new comedy, Every Stewardess Goes to Heaven. The two will play lovers (which seems odd since she played his daughter in Hideaway). Director-writer Daniel Burman has created the story about a doctor who flies to a remote part of Argentina to scatter his wife's ashes. En route, he develops a relationship with a sympathetic stewardess, played by former Batman co-star Silverstone.

I have doubts about this being true, but we'll see what happens!
A.P.A Gordon Who
AOL News reports that Jeff and Daryl Hannah will star in this romantic comedy to be released in 2002. What's it about? When's it going to be released? Stay tuned!